App Widgets
Do you want to switch your Lifestyles and Scenes quicker? Just add a Widget.
A widget acts as a shortcut and allows you to control your home without opening the BeNext application. Setting up a Widget is straightforward and allows you to divide them by account. Control the size and amount of the widgets yourself.
Try it now! For more information, visit: BeNext.eu/Apps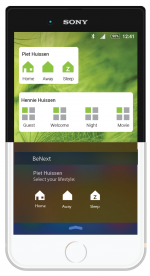 Wireless Smart Meter Readouts
In addition to being the heart of the BeNext system, our Gateway is also a tool for reading out your Smart Meter. To achieve this, an internet connection on location was normally needed.
Which is we now have the BeNext P1-Dongle. With this dongle you can read out your smart meter wirelessly, so you do no longer need an internet connection at that specific location. As always, these readouts get displayed in your BeNext app and webportal immediately.
For more information, visit: BeNext.eu/en/products/p1-dongle