BeNext heeft een nieuwe App gelanceerd.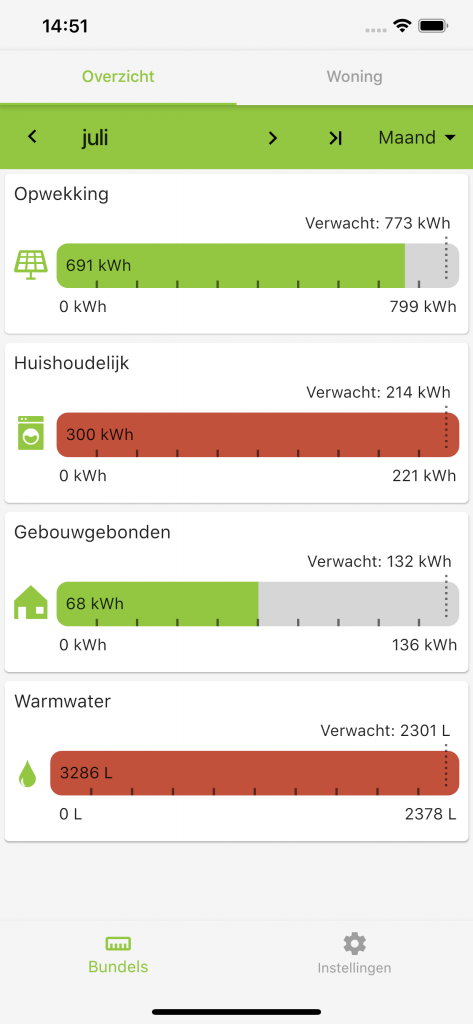 Met BeNext Inzicht heb je altijd en overal inzicht in wat je verbruikt en opwekt.
Speciaal voor woningen waar het BeNext energiemonitoringssysteem actief is, wordt vooraf ingesteld hoeveel energie je zult opwekken en mogelijk zult verbruiken.
Met BeNext Inzicht kun je slim met je energie omgaan, waardoor je energierekening voorspelbaar wordt en je niet voor verrassingen komt te staan.
Om gebruik te maken van BeNext Inzicht is het BeNext energiemonitoringssysteem nodig.
Dit is een uitbreiding op het BeNext Smart Home systeem en wordt voornamelijk toegepast in woningen waar nul-op-de-meter (NOM) garantie wordt afgegeven en bij sociale huurwoningen waar een Energieprestatievergoeding wordt toegepast (EPV).

Het BeNext energiemonitoringssysteem is ook los verkrijgbaar als uitbreiding op het BeNext Smart Home systeem.
– Altijd en overal je energieverbruik inzichtelijk.
– Bepaal zelf of er je zuiniger aan kunt of moet doen.
– Nooit bijbetalen op je jaarafrekening door een voorspelbare energierekening.
Door BeNext Inzicht regelmatig te gebruiken, kun je letterlijk en figuurlijk energie overhouden.
Downloaden
BeNext Inzicht werkt probleemloos samen met de BeNext Smart Home app. Voor beide apps is een BeNext Smart Home systeem nodig.

De App is verkrijgbaar in de

en de

.