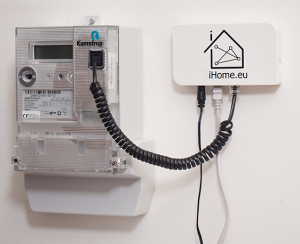 You can connect the Internet Gateway directly to your smart meter, with the P1 cable.
This will give you (totally free) real-time information on energy use in your home. And that's just the beginning, with this insight you are more aware of your energy usage. You will start directly with the savings on your bill.
You can use separate switches and dimmers to get your energy bill further down.
General information
Consumers and small businesses get in the next few years, instead of their existing energy meters, a so called smart meter. This is a digital power meter for gas and electricity usage. The meter will be read out remotely. Introduction of smart meters is done on a small scale since 2012. It is planned that 95% of the households have, at the end of 2020, a smart meter.
Network administrators will install the smart meter at first in new homes, houses that are being renovated, or when the old energy meter needs replacement.
Do you not have Internet access in your cupboard so you can not read your smart meter data using the Internet Gateway?
Take a look at this product: P1 Dongle.
Priority request for a smart meter
From 2014 it is planned that all households in the Netherlands will get offered a smart meter. If you do not want to wait you can apply a priority request. For an amount of 60 EUR plus VAT, the power and gas meter will be replaced and you will get a smart meter. If you have no gas, you pay 56 EUR plus VAT.
With a priority application, the meter will be installed within three months. Practical experience teach us that this often happens within a few weeks. There will be a mechanic who replaces both the power and gas meter.
How can I find out which network administrator I have?
If you want to know exactly which operator you need or what kind of connection you have, you can consult the digital EAN Code Book on this website www.eancodeboek.nl.
Links from network operators to request for a smart meter:
Be aware of the fact that to connect the smart meter the electricity at your home will be shut down for approximately half an hour.
If you have a different network operator for electricity and gas, then you should apply for the priority application by your network administrator for your electricity. We recommend that you explicitly indicate this by your request. The operator then ensures that both the power and gas meter will be replaced at the same time.
Advantages smart meter
You get a more accurate energy bill without estimated meter readings
You do no longer have to read out the smart meter yourself
You can get every two months an overview of your energy usage
If you move or change from energy supplier, this will be without any difficulties or ambiguities
You can better determine how to save energy and you can get energy advice especially made for you
You can connect the Internet Gateway directly to your smart meter, with the supplied P1 cable. Extra advantages you can use:
You will receive a detailed report per hour/day/week and/or month
Simply attach separate products to the home automation system for more details
Compare your generated solar energy and your actual energy fed
Compare your total consumption and your loose measurements to detect standby consumption
Manuals
For more explanation and manuals go to www.slimme-meter.info.
BeNext slimme meter flyer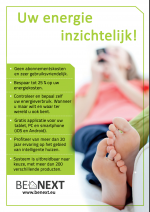 See our Dutch Smart Meter Flyer for more information.
Good to know
The smart meter provides insight into the details of your energy. The government imposes strict safety demands of using this data. The Data Protection Authority will monitor this.
Protected private data
Your data will be protected as well as possible, of course. We take strong precautions so that unauthorized persons can not access your data. Your data is visible only to yourself, your network operator and your energy supplier. From the beginning of 2012, every two months, your meter will be read out and the data will be passed to your energy supplier. Only if you give express permission, others can get to see your daily data as well. They must also comply with the Data Protection Act. The smart meter shows your energy consumption, but may certainly provide no insight into what you are doing at home.
Freedom of choice
All households in the Netherlands are offered a smart meter over time. If you do not want your meter remotely read, then this function will be shut down. In that case you have to read the data yourself. You can continue to use the P1 connector for reading your daily consumption by the use of the Internet Gateway.
The smart meter is automatically on
The operator places the smart meter into your home. This meter is on. That means your network operator will read your meter remotely at the following times:
Once a year for your annual statement
Every two months for your consumption and costs
If you switch to another energy company or if you move
You do not have to read the data yourself if the meter is on. There is also no need for visits from your electrical company. Errors in the transmission or estimated meter readings on energy bills are a thing of the past. Switching to another energy becomes even easier. You will receive, every two months, a statement showing your energy costs and indicative costs of that period. Your network operator may not read the meter more often, unless you give permission.
Shut down the meter
The operator places the meter in your home, but you leave the function for remote reading off. Your network operator will not be able to read your meter remotely. For the annual settlement, and when you changes your operator or move, you must pass the data yourself. Also, you will not receive bimonthly cost and consumption survey.
Note: You can always change it again. You decide whether you put it on or off. Later Caution! Your operator may charge you for this service.
Which smart meters do we support?
We support all DSMR/P1 smart meters. Both the DSMR2 and the DSMR4 (latest version) are supported by our Internet Gateway.
The following smart meter brands have a P1 connection:
Kaifa
Kamstrup
Landis & Gyr
Iskra
Elster
Manuals
For more explanation and manuals of the smart meter you can go to www.slimme-meter.info.